About the Prints
The photographs found throughout this site make perfect gifts for friends, relatives or even a coworker leaving the island. If you're looking to add some colour to your office, corporate space or home then get in touch for a quote or a private viewing.
All prints are sold as true archival photographic prints mounted and matted with 'Alphamat' conservation grade matboard. Prints are made on 'Fuji Crystal Archive printed with Chromira', the ultimate in high end, true photographic printing (gloss)
Prints 11x14 and smaller are mounted on a neutral styrene board, matted with 'Alphamat' conservation grade mat-board. Prints 16x20 and larger are mounted in Gator board. Bermuda's enviorment is extremely difficult to frame and mount for. The high humidity and temperatures mean that only the toughest materials and best techniques can withstand these conditions. Each piece sold is to the highest standards.
WHERE TO PURCHASE IN BERMUDA
A good selection of ready made prints are available at The Bookmart in Brown & Co. in Hamilton as well as the Craft Market in Heritage Wharf (Dockyard). More can be seen by appointment.
**Gift Certificates for any amount can be ordered here**
SIZE INFORMATION
All prints are standard sizes and will fit off the shelf frames. However, it is always best to have pieces custom framed, this allows you much more creativity with frame selection and assures that the prints will be professionally handled and framed properly. Typically custom framing is not too much more than an off the shelf frame, especially considering as you can purchase the print already mounted and matted.
PRICING
FRAMING OPTIONS
Any faming sold through this site is limited to availability based on shipping destinations. Silver and black frames shown are for Bermuda only where all framing is by Frameworks. Framing orders for other shipping locations may use a slight variation and will be sold with plexi-glass for shipping purposes.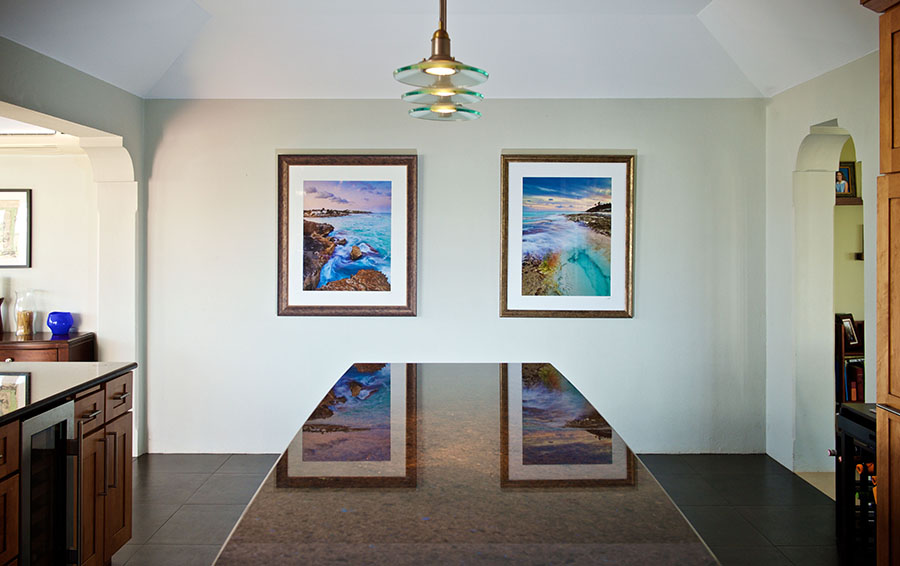 Custom framed prints (24x30) installed in a kitchen
DELIVERY INFORMATION
Delivery times vary based on the product orderd and shipping destination.
Bermuda delivery times: Print orders can typically be fulfilled in a day or two. Local framing is handled via Frameworks and is subject to their turnaround times, typically 2-4 weeks. Canvas orders are usually ready within a week.
USA and others: Orders are delivered within 1-2 weeks. Confirmation will be provided once the product ships.
All sales are final and are assumed free of defect upon receipt. Returns can be made within 7 days if you if you feel the quality is unsatisfactory.